Visit Netbet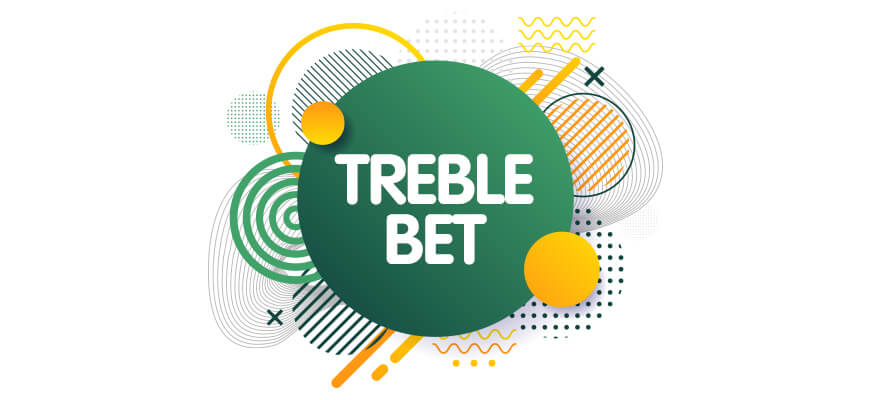 Bookmakers offer their customers many different variations of multiple bets with them all having their own unique names. Finding out about them all is a must if you are to have the best gambling experience possible. In this article, we are going to explain to you in detail what a treble bet is.
What is a Treble Bet?
A Treble bet is a type of accumulator that joins three single bets together in order to form one bet. Although it is a type of accumulator, it is not officially known as one because (as you will know if you have already read our accumulator betting page) accumulators join at least four single bets together in a single bet.
What to Do With 3 Single Bets and a Good Chance of Winning?
When you have three single bets that you think have a good chance of winning, the simplest thing that you can do is to place down three single bets. However, there is an alternative approach that you could take and that is to combine all three selections into a Treble bet.
Why would you think about doing that? Well, a Treble bet will see you get a lot more profit if all three are correct. Okay, there is more of a risk because one unsuccessful selection will ruin the whole bet, but sometimes gambling is all about taking an educated risk. If you are certain that all three of your selections have a great chance of winning, we really recommend that you make a Treble bet.
Keep in Mind
An important thing to keep in mind is that when you are making a Treble bet, all three selections must come from different events. For instance, you cannot make a Treble bet with two horses from the same race as obviously only one can win.
Bookmakers that Offer to Place Treble Bets
Example of a Treble Bet
To help give you a clearer understanding about what a Treble bet is, we will now give you an example of one. Since a lot of punters place treble bets on football matches, we will once again use a football-based example.
Let us pretend (although there is a good chance that we do not have to) that you are a big fan of the Premier League in England, so you decide that you would like to place a Treble bet one Saturday afternoon.
You go and take a look at the matches that are going to be played and you find three teams that you think will win their matches. We have put the three teams and their odds in the table below:
| | |
| --- | --- |
| Team | Odds |
| Aston Villa | 2.20 |
| West Ham | 2.20 |
| Tottenham Hotspurs | 2.00 |
As this type of bet bunches everything into one single bet, the odds for each selection will be multiplied together in order for you to get the total odds for this wager. Therefore, for the above scenario, the total odds for our Treble bet would be 9.68. If you were to place a bet of N1,000 and all three teams win, you will walk away with N9,680 – a nice profit of N8,689. If one or more of the three teams lose, you will obviously not get any money.
If you had placed N1,000 on each team as a single bet and they all won, then your profit would have been just N3,400.
So, you can see from this example how much more you can make if you place a Treble bet instead of just three single bets.
How to Place a Treble Bet
When it comes to placing a Treble bet, there is nothing difficult about it at all. We have outlined the process that you will need to follow below.
Sign in to your bookmaker account and head on over to the betting page of the sport that you would like to bet on.
Find the three predictions that you would like to bet on and click on them so that they are added to the betting slip
Go over to the betting slip and find the box that has Trebles written in it. Decide how much money you would like to place and enter the amount in the box.
When you are happy with everything that you have decided, submit your bet. This is how simple it is to place a Treble bet.
Tips for Treble Bets
When you are thinking about placing a Treble bet, you should not choose three favourites. We know that you will have a higher chance of winning if you do so, but the total odds will be quite low, which means that you will have to place a substantial wager if you are to walk away with any profits that are worth talking about. Therefore, we really do recommend that you bet on some underdogs to improve your total odds.
However, please do not just pick a couple of underdogs completely randomly. You should use all of your football knowledge to make a Treble bet that includes underdogs that actually have a chance of winning. For instance, we would not recommend that you include Norwich to beat Liverpool in your Treble bet, but it might be worth the risk to include West Ham to beat Arsenal, for example.
Our Opinion of Treble Bets
Every type of bet out there has its advantages and disadvantages. We will now have a look at the advantages and disadvantages of a Treble bet.
Advantages
The main advantage of a Treble bet is that you can use it to spice up your gambling experience. When you find three bets from three different events that you think have a really high chance of coming true, you can place them all together in one bet and improve your odds quite considerably.
Another advantage of Treble bets is that you get to lock your odds in. What do we mean by this? Well, let us say that it is the start of the season and you want to place a bet on Liverpool to win the Premier League, Tottenham Hotspurs to win the FA Cup, and Juventus to win the Champions League.
At the start of the season, the odds will be pretty good for each of these outcomes. However, if you decide to give it some time to see how each team is performing, you could find that the odds decrease as all three teams start off very well. Therefore, you should consider placing the Treble bet at the start of the season to take advantage of the generous odds on offer.
Disadvantages
Like with an accumulator bet, the main disadvantage that you will come across with a Treble bet is that you need to get all three selections to spot on if you are going to be able to walk away with more money in your account.
If one of your selections loses, your bet becomes worthless. This can become really frustrating when you have included the early kick-off in your Treble bet and the team that you backed goes on to lose. You would have been hoping for the entertainment to carry over to the other two later games, but your bet is over before it has really begun.