Betking Promo Code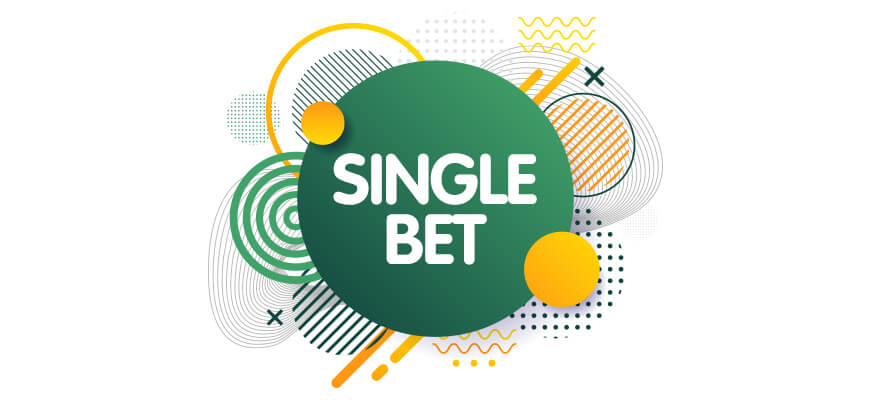 A single bet is probably the simplest bet that you will come across when you are gambling with a bookie. Below is everything that you need to know about single bets. Whatever we have left out is just not worth knowing.
What is a Single Bet?
A single bet, also known sometimes as a straight bet, is a bet on the outcome of a single event. The amount that will be returned to you will be determined by the odds that the bookie offered as well as the amount that you decided to stake. Obviously, the more money that you stake, the more you will stand to win if Lady Luck happens to be smiling upon you.
With a single bet, the higher the odds, the less likely the bookies believe that the outcome will come to pass. The key with single bets is to find the selections that you believe have a better chance of happening than the odds that the bookies provide would suggest. These are what are known as value bets.
Bookmakers that Offer Single Bet Options
Example of a Single Bet
In order to give you a clearer picture as to what a single bet is, we will provide you with an example.
Let us pretend that you are a huge Manchester United fan and you follow the Premier League religiously. It is the weekend and they are taking on Aston Villa at Old Trafford. You want to place a bet on the Red Devils winning, so sign into your account and head on over to the Premier League section of the site.
You find that Man United are 1.60 to win while Aston Villa are 6.00. Villa are not doing too well in the league, so the odds of 6.00 are fair, while United have found a bit of form and are playing at home so, once again, the odds of 1.60 are fair – maybe even slightly generous.
| | | |
| --- | --- | --- |
| Outcome | Manchester United | Aston Villa |
| Win | 1.60 | 6.00 |
| Draw | 3.25 | 3.25 |
You are happy to place a bet on United to win, so the next thing that you have to do is decide how much money you are going to place on it. Let us say that you are feeling pretty confident that United will win comfortably, so you place N3,000 on them to be victorious.
They do not win comfortably, but they do still win 1-0 thanks to a very dubious VAR call. So, how much will you receive? Well, it is very easy to calculate that – you simply have to multiply your stake by the odds provided.
N3,000 x 1.60 = N4,800
Therefore, you will receive a nice profit of N1,800. To add to that, your favourite team also picked up three points, which all football fans know is a great feeling.
How to Place a Single Bet
Is it difficult to place a single bet? You will be happy to hear that the answer to this question is a resounding no, even if you are a relative novice.
Below we have outlined how you can place a single bet:
Find the sport and event that you would like to place a bet on.
Once you have done this, click on the odds and the selection will automatically be added to your betting slip, which you can usually find on the right-hand side of the website.
Decide how much you would like to bet and enter the amount into the box provided. The amount that you could possibly go on to win will automatically be calculated.
Once you are happy with your choices, click on the "Place Bet" button. The wording might be different depending on which sportsbook you have an account with.
That is how simple it is to place a single bet.
Single Bet Tips
As we mentioned above, the key with single bets is to be able to find value. If you do your homework regarding particular sporting events, then you can beat the bookies at their own game.
Let us stick to the Premier League for the time being. Let us say that West Ham are playing Arsenal at the London Stadium. Now, the Hammers have had a pretty poor season, but Arsenal fans will be pretty discontent with their season too as they are out of all the competitions and are 9th in the table. As usual, though, Arsenal due to their history and size of the club will be firm favourites to beat a lowly West Ham side.
Therefore, you find odds of 1.54 for an Arsenal win and odds of 5.50 for a Hammers win. However, you know that West Ham have a good record against the Gunners and know that they are fighting for their Premier League survival, so there is a good chance that they could go ahead and upset the odds. Furthermore, you know that Arsenal have been poor away from home throughout the season.
Therefore, you decide that it is worth the risk to place N1,000 on the home side to win. Luckily for you, they go on to win the game 1-0 and you walk away with a tidy profit of N4,5000.
So, the main tip for placing single bets is to try and find the odds that will provide you with added value.
Our Opinion on Single Bets
Below we will take a look at some of the pros and cons of this type of bet.
Advantages
Single bets are great when it comes to long term profit. If you have two games that you would like to bet on is it better to place two single bets rather than a double bet. Let us just pretend that both of your selections have odds of 2.00.
If you put down two single bets worth N1,000, you total betting stake will be N2,000 and you will have the chance to win a profit of N,2000 if both bets come in.
If you put down a double bet worth N1,000, your total betting stake will be N1,000 and you will have the chance to win a profit of N3,000.
We understand why this looks like a great deal – you are risking a lower amount while having the potential to win even more money. However, let us take the scenario where you only predict one of your selections correctly. With a double bet, you will lose all of your stake, but if you have placed down two singles then your winning bet will cover your lost bet.
Disadvantages
If you are the type of player that wants to win big sums of money, then you will not be able to do so with a single bet. Well, you can, but in order to do so you will have to risk huge sums of money.
Unless you have big sums of money that you do not mind potentially throwing away, we do not recommend that you do this. You should use single bets just to make a nice profit, not a huge one.