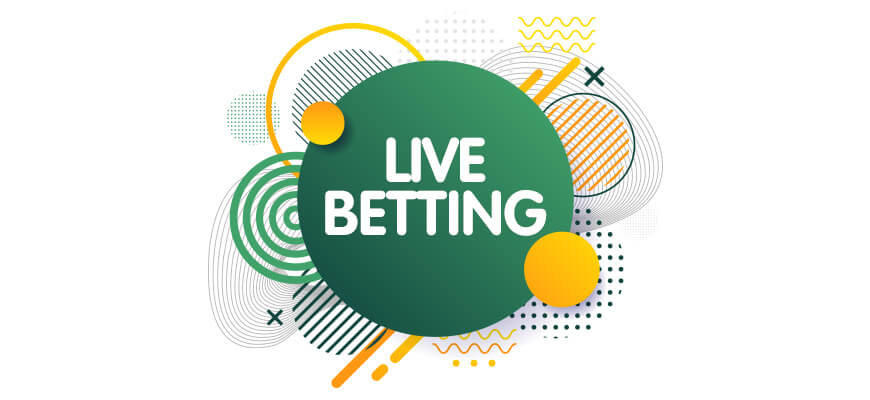 Is there anything more annoying than wanting to put a bet on a football match only to find out that the sportsbook that you have an account with has stopped accepting any wagers because the match has started. This used to happen in the past, but if you are new to sports betting, you will not know the feeling thanks to live betting. Below you can find out all that you need to know about live betting.
What is Live Betting?
When sportsbooks first opened their virtual doors, customers could only bet on events before they started. Once the event had started, you were too late and would have had to find something else to place a wager on. This could be quite annoying, especially if you were just a few minutes late and then you later see that you have won some money if you had been able to place that bet.
Bookmakers knew that this could be a potentially annoying situation and more and more sports bettors were calling for there to be an option of placing bets when the event has started. Eventually, the bookmakers decided to listen to their customers, and they opened up what is now known as live betting.
Live betting, as you can probably already guess from the name, is a type of sports betting where you bet on outcomes when the event is already happening.
What is the science behind the Live Sports Bets?
Sportsbooks will have experienced oddsmakers who constantly update the odds based on how the event is going and how much time is left. When the event has just started, the live odds will be pretty close to what the odds were before it began. However, as events unfold, the odds will either increase or decrease based on what has been happening.
Example of bet applied to Live Betting
Let us say that Liverpool are taking on Manchester City in a Premier League match at Anfield.
The table below shows you the odds for each team before the match has started:
| | |
| --- | --- |
| Team | Odds |
| Liverpool | 1.66 |
| Manchester City | 1.80 |
These two teams, on their day, are evenly matched, but Liverpool have a slight advantage because they are playing at home. The game kicks off and within ten minutes Liverpool have a dubious penalty (even though VAR was consulted). Sadio Mane steps up and slots the ball past Edison to give his team a 1-0 lead.
The table below shows what the live odds could then look like:
| | |
| --- | --- |
| Team | Odds |
| Liverpool | 1.25 |
| Manchester City | 2.75 |
It remains 1-0 until the 75th minute and then Liverpool double their lead thanks to a screamer from Jordan Henderson. This, as the table shows below, will alter the odds quite drastically as there are just 15 minutes or so of the game remaining.
| | |
| --- | --- |
| Team | Odds |
| Liverpool | 1.10 |
| Manchester City | 14.00 |
Bookmakers That Offer a Live Betting Option
Markets available for Live Betting
Before we go ahead and give you an example of live betting, we would like to briefly take a look at some of the different markets that you can you bet on while live betting.
If you are a huge football fan and you want to place a live bet on a match that has already started, you will be able to place a wager on some of the following:
• The team that will go on to win
• The match ending in a draw
• The team that will score next
• The final score of the match
• The last team that will score
• Whether the number of goals scored will be odd or even.
This is just a handful of the different things that you will be able to place a bet on when you are doing some football live betting.
You will always have more options available to you when you are live betting on more prominent matches. For example, a big Champions League match between Real Madrid and Juventus will have more live betting markets than a match between two teams that not many people have heard about that play in a minor French league.
Example of Live Betting
Let us now give you an example of live betting and how you can win. Once again, we will be sticking to the English Premier League.
Let us say that Manchester United are playing Arsenal and you join the game with Manchester United winning 1-0 thanks to a goal by Phil Jones. However, you look at the live stats and see that Arsenal have had 70% of the possession and 8 shots on target to Manchester United's 2.
These stats suggest Arsenal are in the ascendency, so you take a look at their odds of winning. They are 3.00, which is pretty good considering the stats, so you slap down a N2,000 wager. Arsenal go on to equalize thanks to a thundering header from Sokratis and then with 5 minutes remaining, David Luiz scores one of his trademark free-kicks from 30 yards.
They go on to win the match 2-1 and you have won the live bet that you placed.
How to Place a Live Bet
Making a live bet really is no different from making any other sort of bet. Below is the process that you will need to go through if you would like to place a live bet wager:
Sign in to the sportsbooks that you have an account with and head on over to the sports betting page of the sport that you would like to find a live match for.
Once you have found a match that piques your interest, click on it and you will be taken to the live betting markets.
Take a look at the stats to see how the match has been going and then make a selection based on what you can read from the live stats.
Once you have decided, click on it and it will be added to the betting slip. Your next decision is to decide how much you would like to place on this outcome happening.
Once you have decided, enter this amount into the correct box and then submit your bet. You have now just placed your first live bet!
Tips for Live Betting
When it comes to placing live bets, the best advice that anyone can give you is to pay close attention to the live stats. Bookmakers do not provide you with live stats just for the sheer fun of it – they do so to help you out when it comes to placing a live bet.
Without live stats, it would be pretty impossible to gauge how a match has gone so far. For example, let us say that you tune into a Real Madrid v Barcelona match with 60 minutes having been played. You can see that Barcelona are winning 1-0, but there are no live stats available. How can you place a sensible live bet when you have no idea which team has done the most attacking and had the most shots on goal? You simply cannot. In fact, if you placed a bet, you would basically be betting blind and this is something that we do not recommend.
Some bookies will also have live streaming available and when they do we highly recommend that you watch some of the matches closely. Watching a match closely for a few minutes can tell you an awful lot about what could unfold later on.
Therefore, when you are placing live bets and there are live stats and live streaming available, please take the time to study the stats and watch some of the action before finalizing your bet. It is definitely a tactic that will help you become more successful when live betting.
Our Opinion of Live Betting
Every type of bet has its own advantages and disadvantages. We shall now take the time to look at some advantages and disadvantages of live betting.
Advantages
One of the main advantages of live betting is that there is a lot of value to be aded. For instance, a favourite could have odds of 1.40 before a match starts, but then they could go behind early, meaning that their odds increase up to 1.80. They still have a very good chance of coming back and winning the match, so you could take advantage of these better odds. Or, perhaps you are the type of person that likes to bet on the number of goals that will be scored in a match. However, it is always best to wait before you place such bets. For instance, the odds for over 2.5 goals will increase as more time passes without a goal being scored. If you wait for the correct moment, you can find very valuable odds.
Another great advantage of live betting is that there is so much you can bet on and you can do so every hour of the day tas most bookmakers provide a wide variety of live betting options for many different types of sports. Therefore, if you are bored one evening, you can open your sportsbook account and entertain yourself with some live betting.
Disadvantages
A disadvantage of live betting is that you can feel that you are being pushed for time. You need to check out the live stats and watch some of the game if there is live streaming available, but you cannot spend too much time analyzing everything because you could, as they say, end up missing the boat. Everyone who has done enough live betting knows the frustration of having a bet in mind and then seeing that outcome happen before they have placed the bet.
Another disadvantage is that you can lose a lot of money if you are not careful. Some people will lose a live in-play bet, and then place another one to try and cover that loss. They will lose that one too and then place another bet that they also lose. Before they know it, they have gone on to lose more money than they wanted. When live betting, do not let your ego get the better of you. If you lose, accept it and move on.