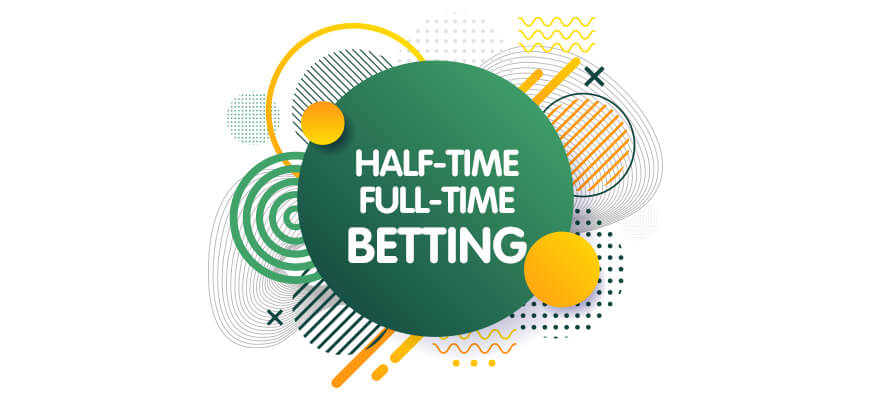 A half-time/full-time bet is something that is becoming more and more popular among those who love to place bets on football matches. If you would like to find out everything that you could possibly need to know about this type of bet, then please do carry on reading this guide.
What is a Half-time/Full-time Bet?
Well, in sports such a football you can obviously place a bet on the team that you think will win the match at the end of the 90 minutes, but you also have the option of trying to guess the outcome at half-time as well as when the final whistle is blown. This is known as a half-time/full-time bet.
With this type of bet, you will need to get both predictions right in order to walk away with the prize money. Furthermore, it is important to note that such bets are only alive over the initial 90 minutes. In other words, it does not matter what happens if the game goes into extra time – your bet will be paid out (or not paid out) depending on what happened in the original 90 minutes.
Bookmakers Which Accept Half-time/Full-time Bets
Example of a Half-Time/Full-Time Bet
We will now give you an example to help clarify matters. We know that we usually use the Premier League in our examples, but we have decided to add a bit of variety here by using Italy's Serie A.
So, let us pretend that you are a big AC Milan fan and there is the local derby coming up against fierce rivals Inter Milan. Ac Milan are home and you decide that you are going to place a bet on it – you think now is the time that you would like to enter the world of the half-time/full-time betting option.
When it comes to football, there are 9 different outcomes of half-time/full-time bets that can occur. You can see these 9 different outcomes in the table below:
| | | | |
| --- | --- | --- | --- |
| Outcome | Half-time | Full-time | Conditions |
| 1/1 | Milan | Milan | Milan winning at half-time and at full-time |
| X/1 | Draw | Milan | Draw at half-time, with Milan winning at full-time |
| X/X | Draw | Draw | Draw at half-time and a draw at full-time |
| 2/1 | Inter | Milan | Inter winning at half-time, but Milan come back to win the game |
| 2/X | Inter | Draw | Inter are winning at half time, Milan manage to draw the game by full-time |
| 1/X | Milan | Draw | Milan winning at half-time, but the game ends in a draw |
| 2/2 | Inter | Inter | Inter are winning at half-time and at full-time |
| X/2 | Draw | Inter | It is a draw at half-time, but Inter win the match |
| 1/2 | Milan | Inter | Milan are winning at half-time, but Inter still win the match |
AC Milan are having a strong season at home, but you know that Inter have the quality to keep themselves in the match at half-time. Therefore, you decide to place your money on a Draw/Milan half-time/full-time bet with odds of 4.00. The score at half-time is 1-1 and Zlatan Ibrahimović scores the only goal of the second half to get Milan all three points. If you placed N1,000 on this outcome, then you will receive a nice profit of N3,000.
However, if the game is 1-1 at half-time and no goals are scored in the second half, then you will obviously lose your bet.
How to Place a Half-time/Full-time Bet
Once again, you will be glad to hear that you will have any difficulty when it comes to placing a half-time/full-time bet.
Just read the outline process below and you will be set for when you next want to place such a bet.
Enter your account, enter the football market, and then find the game that you want to place a half-time/full-time bet on.
Click on this match and you will be taken to all of the available markets for it. Locate the half-time/full-time market – if you are having trouble finding it, simply do a Ctrl + F search.
Decide what outcome you think will come true and then decide how much money you would like to stake
Click on the outcome and then enter your stake on the betting slip to the right of the page. Click "Place Bet" and you will have just successfully completed a half-time/full-time bet.
Half-time/Full-Time Betting Tips
It is always good to do your homework when placing any type of bet, but it is arguably more important to do so for a half-time/full-time bet. People generally tend to go for this type of bet when they think there is going to be a one-sided game.
For example, to stick to the Serie A, a match between AC Milan and Spal had Milan at 1.60 to win because they were heavy favourites. However, Milan half-time and Milan full-time boosted the odds to 2.40, which are much more attractive odds.
However, is it worth the risk? Well, this is where looking at stats come into play. Milan have won 5 of their last 6 home matches, so the outcome for a Milan win looked good. Furthermore, they have also not conceded in 40% of their home matches, so it is not likely that they will concede many against Spal. To add to this, they have been leading at the break 9 times from 17 home matches.
However, Milan have been winning at half-time in just a couple of their recent home fixtures, which suggest they have been scoring more in the second half of recent fixtures. However, you should not make a prediction based off of just one team's stats. A quick look at Spal's stats reveals that they have only been losing at half-time in 4 away matches all season. Therefore, it is probably best to go for the Draw/Milan option at better odds of 3.00.
This is an example of how you can use stats to try and improve your chances of winning a half-time/full-time bet. Nevertheless, it is important that you never pay much attention to stats from the beginning of the season. You should wait until each team has played at least ten matches as they are less likely to be lopsided then.
For instance, at the start of the season, a team that has just been promoted could win their first three matches, but there is still a very good chance that they will end up relegated come to the end of the season.
Our Opinion of Half-time/Full-time Bets
Below we will take a look at an advantage and a disadvantage of half-time/full-time betting.
Advantage
One of the main advantages of this type of bet is that it gives you the opportunity to win more money as the odds are higher. Just like with correct score betting of final result betting, if you have a match where one team is a clear favourite, sometimes it just makes no sense to place a bet on them to win as their odds are so low.
We mean, what is the point of placing N5,000 on a team to win at 1.10? If, as predicted, you go on to win your bet, you will get a profit of just N500. There is also a chance that the underdog will win and if that happens, you have just lost N5,000 all for the opportunity to win just N500. The risk is just not worth the reward if you ask us.
If you still really want to bet on a match that has a clear favourite, then you can improve the odds by going for a half-time/full-time bet. If you do this, the odds will likely increase from 1.10 to somewhere around 1.50 or even slightly higher. This means that if you place a N5,000 bet on the favourite to be winning at half-time and full-time, you will at least have a chance of winning a profit of N2,500 instead of just N500.
Disadvantage
If you place a bet on the final result of a game, then you have two other outcomes that can happen that will make you lose your bet. The team you bet on to win can either lose or the match can end in a draw.
However, when it comes to half-time/full-time betting, there will be 8 other possible outcomes that can ruin your bet. Therefore, it stands to reason that with this type of bet you have a lower chance of winning than you do with other types of bets that are available.