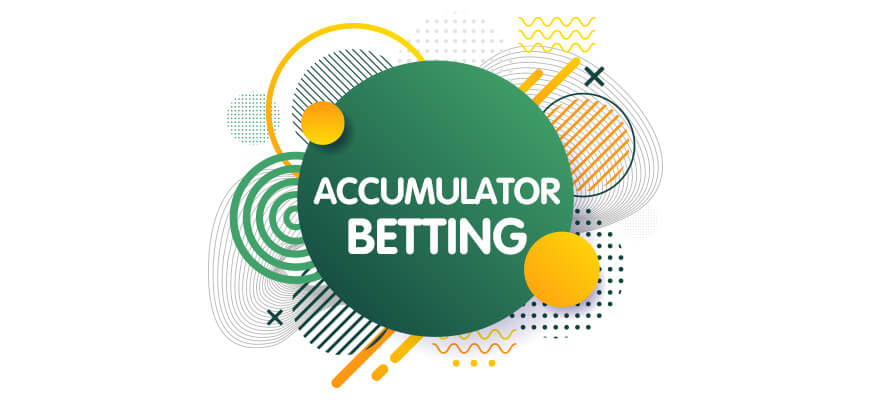 Accumulators have become very popular in the sports betting world, especially when it comes to sports such as football. Go into a pub at the weekend and there is a very good chance that you will hear people talking about their "acca" that they have lined up for the weekend's matches. Below we will teach you everything that you should know about accumulator betting.
What is Accumulator Betting?
An accumulator is two or more betting selections combined into one bet. Therefore, double and treble bets are types of accumulators, but a proper accumulator is a bet that has four selection or more in it. In an accumulator bet, a selection is known as a "leg".
With an accumulator, the odds of all your legs are multiplied together, which means that you can end up with very large odds. This is one of the reasons why they have become so popular.
However, there is something important that you need to remember when it comes down to accumulator betting and that is that you have to get every single prediction right in order to walk away with some money. You could place a ten team acca and get nine right, but the only thing that you will walk away within such scenario is a bit of pride since you managed to get 90% of your predictions right.
However, in the gambling world, pride does not really amount to much. Anyone who places regular accumulators will know the pain of losing out on a considerable sum of money thanks to one match. But this fine line between disappointment and ecstasy is what makes this type of bet so very popular.
Bookmakers that Offer to Place Accumulator Bets
Example of an Accumulator Bet
To help you to get a better understanding as to what an accumulator bet is, we shall provide you with an example of one. Since the majority of sports bettors place accumulators on football, our example is going to be a football-based one.
Let us say that you are a huge fan of Spain's La Liga, so you decide that you feel like placing a six-team accumulator. You take a look at the matches that are being played over a particular weekend and select six teams that you think are going to win. The teams and their odds can be found in the table below:
| | |
| --- | --- |
| Team | Odds |
| Real Madrid | 1.60 |
| Barcelona | 1.60 |
| Valencia | 2.10 |
| Levante | 3.00 |
| Atletico Madrid | 1.80 |
| Sevilla | 1.80 |
As this is an accumulator bet, all of the above odds will be multiplied together to give you the total odds for this bet. In this case, you will have total odds of 52.25. Therefore, if you put N1,000 down as your stake and all of those six teams win, then you will walk away with N52,250.
However, if just one of those teams go on to lose their game, then you will lose that N1,000 that you staked.
How to Place an Accumulator Bet
Accumulator betting is no hassle at all, and we have gone to the trouble of breaking it down for you below. You can make accumulators for a variety of different sports, but we are going to stick to football accumulators here because they are the most popular.
Log on your account and head on over to their football betting page.
Decide how many teams you would like to include in your accumulator and then go about finding the teams to include. You can choose all the teams from one league or you can select teams from a wide variety of leagues. For example, there is no problem if you decide to choose two teams from the Premier League, La Liga, and the Serie A.
When you find a team that you like the odds for, click on them and they will be automatically added to the betting slip. Once you have are content, quickly run through the list to make sure that you have all of the teams that you wanted.
Scroll to the bottom of the slip and find the accumulator option. Some bookies will have the word accumulator, while some others will show the number of matches that you have chosen followed by fold. Therefore, in this case, you will be looking for 6-fold.
Decide how much you would like to wager and then enter this amount in the box. All that is left now is for you to submit the bet. Once you have done that, you will have just completed an accumulator bet.
Tips for Accumulator Bets
When you are placing an accumulator bet, you should not always go for the favourites. Okay, you will obviously have a better chance of winning your acca, but the odds will usually be quite low, meaning that you will not win a substantial amount unless you wager a decent sum of money. Therefore, we highly recommend that you chuck in some underdogs too in order to boost your odds.
However, do not just select two underdogs at complete random – use all of your footballing knowledge that you have gathered down the years to make an educated guess. You could also take the time to do a bit of homework to compare the form of the underdog with that of the favourite and so on.
Our Opinion about Accumulator Betting
Below we will talk about the advantages and disadvantages of accumulator betting.
Advantages
People bet on sports for the entertainment that it brings (as well as to win some money, of course). When it comes to the different types of bets that are available, it is safe to say that there are not many that are as exciting as an accumulator bet.
What makes this type of bet so exciting is the fact that you need to get every selection correct in order to walk away with some money. Let us say that you have a 6-fold accumulator and you have got five out of six right, with one game left to play. Can you imagine the excitement and the tension that you will experience when you are watching that final game hoping that the team that you bet on to win does not go ahead and make the rest of your hard work obsolete?
Another great thing about accumulator betting is that it allows you to create a bet with huge odds. Therefore, since the odds are huge, you do not really need to risk much of your own money in order to get a decent return. You could slap down N500 and see yourself get a profit of thousands if all of your betting predictions turn out to be true.
Disadvantages
Obviously, the main disadvantage with this type of betting is that your bet has to be 100% correct if you want to walk away with a win. As soon as one of your teams loses, your bet is obsolete. This can be particularly annoying if you make an accumulator with one team playing earlier than the rest and they go on to lose. This means that your bet is basically over before it has even started, and you now do not care what happens in the other matches.
Another disadvantage is that people sometimes have the tendency to get greedy when they are placing an accumulator. People see the odds going up and up and then they think to themselves that it is a good idea to add another one to the acca. However, although the odds might be exciting to look at, the more selections that you add, the smaller your chances of winning will be. Our advice to you is to make sure that you never get too greedy.