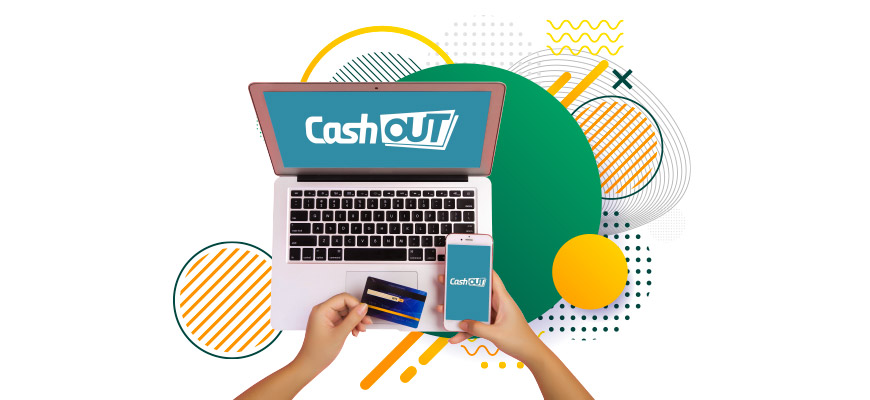 The option of cashing out your bet has become a very popular feature at online Nigerian sportsbooks. You might be sitting there thinking the following questions: What is a cash out? Why is it used? How is it calculated? Well, all of the answers to these questions, and more, can be found below, so read on to find out all the information that you need to know about the cash out option.
What is a Cash Out?
The cash out feature gives you the option of taking a set amount of cash to close the bet before the event that you have placed a bet on comes to an end.
One thing that you need to remember about the cash out option is that it is not always available, it depends on the type of sport and event that you are betting on. Therefore, you should never place a bet with the assumption that you will have the option of cashing out your bet later one. However, those of us who are huge football fans, will be glad to hear that the cash out option is often always available.
If you are not a big football fan, then do not worry as you will also be given cash out options when you bet on sports such as basketball, horse racing, tennis, and boxing.
Why Should You Use the Cash Out Feature?
The cash out feature is great if you have a feeling that you will lose your bet if you let it carry on until it ends.
Example
For example, if you have a 7-fold accumulator going and you have won 6 out of 7 and the final team that you have bet on is winning 1-0, but it is looking highly likely that they will go on to draw or even lose the match, then it is wise to consider the cash out option.
Benefits for the Bookmaker and the Bettor
The cash out option can be an advantage to the bookmaker as well as to the customers. For instance, if a customer cashes out for N5,000 but then their bet, which would have earned them N7,000 goes on to win, the sportsbook has just saved themselves N2,000.
A tip that you should follow is that if cash out your bet and it goes on to win, do not be too disheartened. After all, you were happy with the cash out value to start with and you will still have earned a tidy profit.
The Best Nigerians Bookmakers Offering a Cash Out Option
The Different Types of Cash Out
There are two different types of cash out options and these are:
Full cash out
Partial cash out
A full cash out is the one that we have just explained above. The bookmaker will offer you what they deem to be a fair cash out value and if you accept their cash out evaluation, the bet is considered to be finished.
However, when it comes to a partial cash out, you will be given the option of taking some winnings and leaving the rest so that your wager can carry on. When you are making a partial cash out, there is a slide bar that you can slide backwards and forwards to change your cash out value and what your new payout will be if your bet then goes on to win. Below we will provide you with an example of a full cash out bet and a partial cash out bet.
How the Cash Out Works for Sports Betting
Below we will answer some important questions about the cash out feature as well as provide you with some great tips that you would do well to pay attention to.
How is the Cash Out Calculated?
Your cash out value will be calculated by using your potential winnings and the odds that you would be given if you placed the bet at that moment in time.
For instance, if you had placed a bet of N1,000 for a team to win with odds of 4.0 and they have a half-time lead, the available odds at half-time would probably be somewhere around 2.00.
A fair cash out can be calculated by dividing your potential winnings by the current available odds. Therefore, in this example, a fair cash out would be:
N4,000/2.0 = N2,000
However, this will not usually be the offer that is given by the bookmaker as they will always be looking to earn a bit more money.
Therefore, in the above example, the cash out value that you are likely to be given will probably be somewhere around the N1,900 mark.
When Can You Cash Out?
Like we said earlier, you will not always have the option of cashing out. The option will be available as and when the bookmaker feels like it. However, when you do have the cash out feature available for a wager that you have placed, you can cash out whenever you feel like it. You should keep in mind that with sports such as football, the cash out option is often suspended when the match enters its final stages.
Furthermore, during the game, you will likely notice that the cash out option gets suspended from time to time. This will occur when some event is unfolding. For instance, maybe a penalty has been awarded to one team. In this scenario, the cash out amount will be temporarily suspended until it is known whether the penalty has been scored or not. Your cash out value will then be altered depending on the outcome of the penalty.
Can You Cash Out During a Game?
When it comes to cashing out, you can only do so during the game. Obviously, once the event has come to an end, your bet will have run its full course, so you will be paid out simply on whether you won your original bet or not.
You will be happy to hear that the cash out service will always be available on your mobile device. Bookmakers are well aware that the majority of people place bets using their mobile devices, so they would be foolish not to offer cash out services on mobile platforms too.
Some Tips to Keep in Mind
What is the best time to take your cash out option? This is a question that sports bettors love to ask, but it is a question that honestly does not have a right or wrong answer.
To make a successful cash out, you need to have good judgement and some luck, which is ultimately something that you need when betting on anything.
Do your homework: you can greatly improve your odds of cashing out your wager at the best time. If you have made a bet and you anxiously hovering your finger over the cash out button, make sure to check out the stats before you click it.
Check the stats: it will inform you whether your team is dominating and, if they are, then the best thing is to let your wager run. However, if they are getting dominated or have had a man sent off, cashing out is probably the wisest decision to make. Having a good level of insight on the bet that you have placed will enable you to be able to confidently click on the cash out button.
Consider how your previous bets have been going. If you have placed a number of bets before and have ended up winning a decent sum of money, then you can probably take the risk and let your wager run its course. However, if you have had a rubbish run of luck and have lost a number of bets before, you should consider cashing out so that you can cut your losses.
Below are three other scenarios that you should consider.
One leg to go
Those of us who are frequent bettors will have all been in the situation where we have placed am accumulator and we just need one team to do their part in order for us to win a tidy sum of money. Fortune does favour the brave, or so they say, but in this case, the bookmaker will offer you a nice cash out sum.
You will then need to work out the realistic chances of your remaining team winning their match and you should never be afraid to accept the profit.
Last kick of the game
All of us football fans know the agony of our favourite team losing a match with the last kick of the game. It is a scenario that gives most football fans shivers. So, if the team that you have bet on is winning 1-0 with just ten minutes or so of the match remaining, then we recommend that you think about taking the cash out value that is on offer.
Doing so could turn a potentially bad day into a relatively good one. However, remember not to wait until injury time as the cash out option will be suspended and you go on to lose your bet, you will end up kicking yourself.
Money always talks
If you are in need of some money, then there is no harm to accept the cash out value.
If you do not cash out, it is a bit like turning someone away who is offering you a briefcase of cash in the hope that someone else will turn up with a bigger briefcase. Sometimes, even something that might be deemed as a bad cash out can eventually turn out to be a shrewd bit of business.
Cash Out Examples
Below we will give you an example of a full cash out as well as a partial cash out.
Full Cash Out
Let us say that at the start of the 2019/20 Premier League season the odds of Liverpool to go on and win the title were 5.00. This means that if you placed down a N3,000 bet on Liverpool to be crowned champions, you would see a return of N15,000 – a profit of N12,000.
Halfway through the season Liverpool are sitting at the top, but Manchester City are hot on their tails. At this moment, there is a cash out option of N4,500 and Liverpool's odds to win the league have now dropped to 3.00.
The fair cash out value would be N15,000/3.00 = N5,000.
You can claim the N4,500 and get a profit of N1,500, which is a decent profit. However, if Liverpool go on to win the league then you have left a N10,500 profit on the table. But, then again, if Manchester City went on a long winning streak (which is highly likely) and pip Liverpool to the title, the only thing that you will end up with is a loss of N3,000.
Partial Cash Out
Let us pretend that you have placed a N1,000 bet on a four-fold football acca with combined odds of 11.00. This means that you will win a total of N11,000 if it goes on to become successful. The first three teams go on to win, while your final selection goes ahead early in their match.
The bookmaker that you have an account with offers N5,500 for you to cash out and end the bet. However, you opt to claim the partial cash out and take only N4,000, allowing the bet to carry on. Since you have decided to cash out, rather than another N7,000 (11,000 – 4,000), if your bet goes on to win (which it does), you will receive another N4,000.
What Are the Nigerian Sportsbooks Offering a Cash Out Option?
All of the popular Nigerian sportsbooks will offer their customers cash out option.
| | |
| --- | --- |
| Bookmaker | Type of Cash Out |
| Bet9ja | Full Cash Out |
| NairaBet | Full Cash Out |
| 1XBet | Full Cash Out and Partial Cash Out |
| BetWay | Full Cash Out and Partial Cash Out |
| Pinnacle | Full Cash Out |
| 22Bet | Full Cash Out |
| Surebet247 | Full Cash Out |
| Lionsbet | Full Cash Out |
| NetBet | Full Cash Out |
| Betfair | Full Cash Out and Partial Cash Out |
So, as you can see from the table that we have provided above, at this moment in time, there are no sportsbooks that are based in Nigeria that are offering their customers the partial cash out option. This is because the cash out option is relatively new with sportsbooks in Nigeria, but we hope that they will add this feature in the near future.
In the meantime, if you really want to sign up with a sportsbook that has a partial cash out service as well, then you can select from 1XBet, BetWay, and Betfair.
To Sum Up
You will hopefully now know everything that you need to know about the cash out service. We really hope that you can start using it to your advantage.
Use the cash out option wisely and you could see yourself walking away with more money than you would have if you just let your bet run its natural course.
Good luck!